MAGNETIC AND ELECTROMAGNETIC FIELDS I N LIVING BEINGS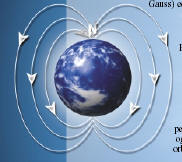 A - PLANET EARTH
The Earth's magnetic field is an enormous ellipsoidal vector field made up of force lines running from the North Pole (negative) to the South Pole (positive); it is very weak (in the order of 0.2 Gauss) and is influenced by (rhythmic) solar activity.
B - SOLAR SYSTEM
There is also another, circular magnetic field which follows the Earth's orbit around the Sun and the orbits of the other planets in the solar system; these two magnetic fields, perpendicular to each other, accompany each planet along its solar orbit, intensity being proportional to the mass and speed of the planet.
C - ATOM
The same is true of the electrons in the atomic structure, resulting in the production of "spin" magnetism. It is also true of all living organi sms, man included (aura vitale), which are, in turn, affected by the earth's magnetism.
There thus exists a harmony of (magnetic) spheres of which even ancient civilisations were aware, a harmony that extends from the infinitely large (macro-anthropic - universe) and the infinitely small (micro-anthropic - human body).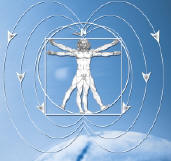 D - MAN AND TERRESTRIAL BIOLOGICAL
This magnetic action should be summed with the Earth's electrical field, formed by the interaction of ground and atmosphere. The intensity of that field varies both during the day and throughout the course of the year (it is greater during the winter) depending on exposure to the sun's influence (rhythmic). This difference in potential has a considerable effect on the "aura vitale" and thus on the well-being of the living beings that are subject to the rhythmical action of the Earth's dual electrical/magnetic field: these beings need to "re-synchronise" with that field continuously following variations in place, location and solar exposure (over the day and following changes in geographical location).
---

Copyright © 2003 "GAIA - CENTRO DI BENESSERE PSICO FISICO S.R.L." . ITALY
Tel. +39 0425 456 015 - Fax +39 0425 95339
gaia@elisirproductor.com
All rights reserved
Last upgrade: 08-07-04.