PRACTICAL HINTS FOR GETTING THE BEST FROM ELISIR PRODUCTOR
Some two to three litres of magnetized water must be drunk each day: at this intake level any stones found in the kidneys, liver, prostate and saliva glands will be dissolved within 8-12 weeks. To eliminate water retention it is necessary to drink 50-100 grams (about a cupful) of magnetized water (best drunk warm) each hour to stimulate diuresis progressively. Using Elisir Productor on a daily basis couldn't be simpler: just insert the device in the neck of the bottle (Fig. 1) and press downwards gently (Fig. 2) so that Elisir is fitted firmly inside it. Pour the contents, making sure that the air hole (red in all the figures) always faces upwards (Fig. 3): this ensures that the liquid flows out of the bottle smoothly and prevents dripping. To maintain hygiene and keep the device in good working order wash all Elisir Productor components with water and dry thoroughly before putting the device away or using it to activate liquids other than water, such as wines, soft drinks, fruit juices, milk etc.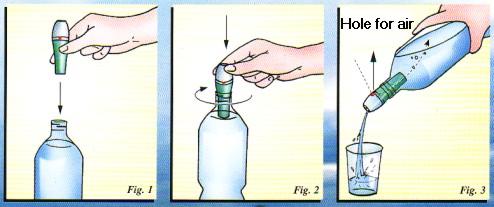 ---

Copyright © 2003 "GAIA - CENTRO DI BENESSERE PSICO FISICO S.R.L." . ITALY
Tel. +39 0425 456 015 - Fax +39 0425 95339
gaia@elisirproductor.com
All rights reserved
Last upgrade: 08-07-04 .